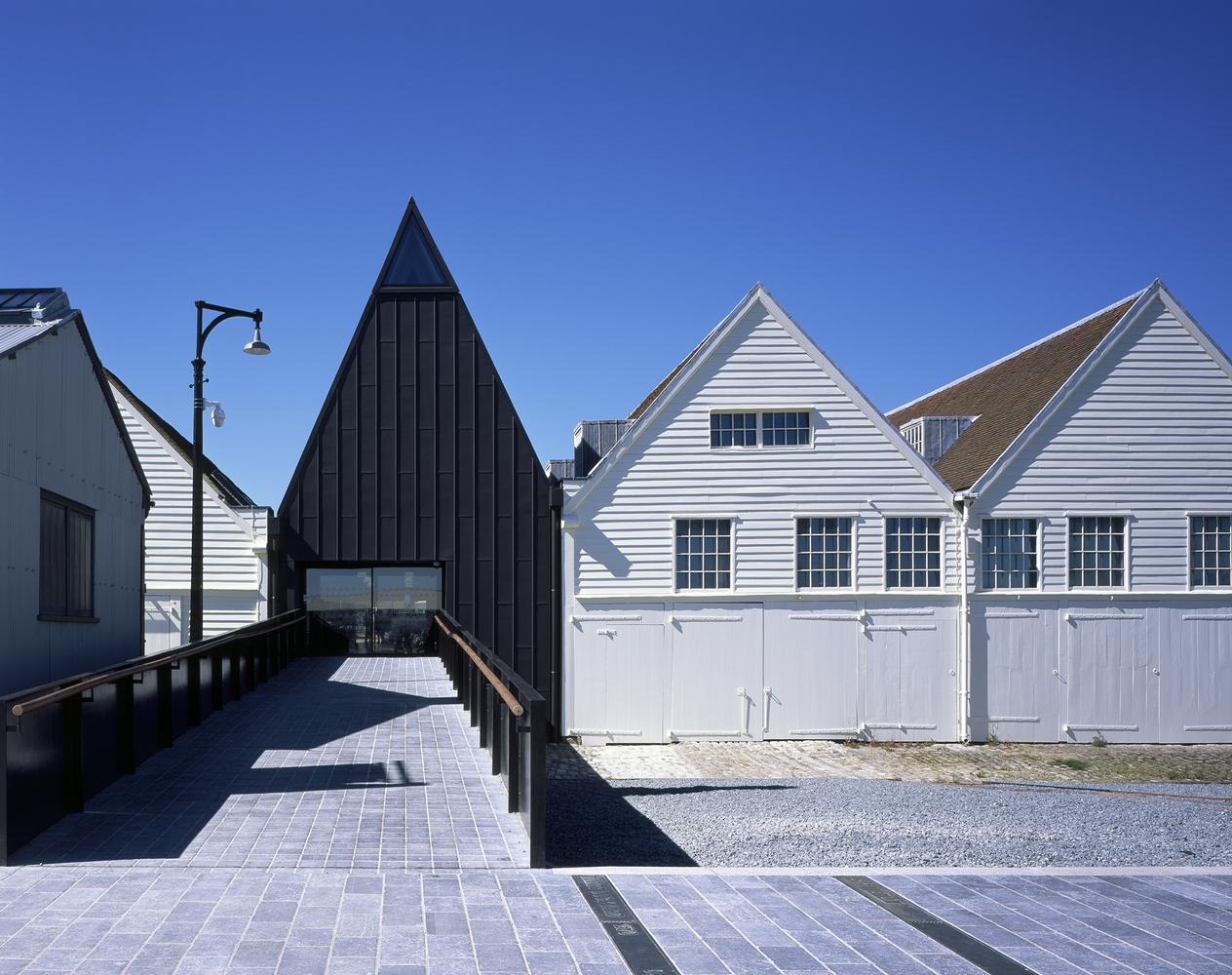 Command of the Oceans reveals a full dockyard story, thrilling archaeology and long-hidden objects, whilst highlighting compelling stories of innovation and craftsmanship.
First conceived in 1995; with the discovery of an 18th-century naval warship called Namur — beneath several layers of floorboards in one of the dockyard buildings.
Hailed as the most significant naval archaeological discovery since Mary Rose; the project at Chatham Historic Dockyard by London studio Baynes and Mitchell Architects, is a heritage landscape and scheduled ancient monument that highlights the progressive conservation, inventive re-use and adaptation of existing fabric.
The architectural firm was tasked with carrying out an extensive restoration, and asked to create a new building that will be a gateway to spaces that represents the ships' remains as well as other exhibits
The ancient timber from the Namur became the focal point of Command of the Oceans.
The striking new 6-metre entrance building clad in black zinc, inserted into the long thin gap that knits together adjoining workshops constructed using timber salvaged from warships; which have been renovated and adapted to form exhibition spaces, new galleries and retail spaces.
The entrance building also connects the ground-floor areas to a new sunken gallery space where visitors are given the opportunity to view the collection of the timbers forming 'the ship beneath the floor'.
"We thought it was important that the visitor be able to inhabit the space the timbers were in," the studio's co-founder Alan Mitchell explained. "We needed to provide a way for people to get a sense of the scale of this archaeological find and experience it all at once."
The idea of using a black galvanized zinc cladding rather than a white structure that would match existing buildings adds a contemporary feature that provides a strong presence within the dockyards complex.
"The two buildings on either side of this gap have a very traditional docklands profile with the saw-tooth roof," said Mitchell. "The idea was to continue that approach but change the rhythm by introducing a change in height."
The modest entrance is immediately obvious to visitors as they approach the large car park, which is situated above the old mask pond.
"As people approach the site, often from a distance, the building needs to announce itself in this quite robust context by being bigger and a different colour to the adjacent buildings."
Internally, the historic buildings feature traditional roof trusses constructed from large structural timbers taken from ships — adding to the beauty of the refurbished spaces.
A palette of material consisting of black metal, black limestone, board-marked concrete and composite timber create a warm and tactile feel throughout the rooms.
Furthermore, the carefully chosen material responds robustly to the strong, industrial language of the existing Historic Dockyard Chatham buildings and landscape.
Images: Hélène Binet (http://www.helenebinet.com/)