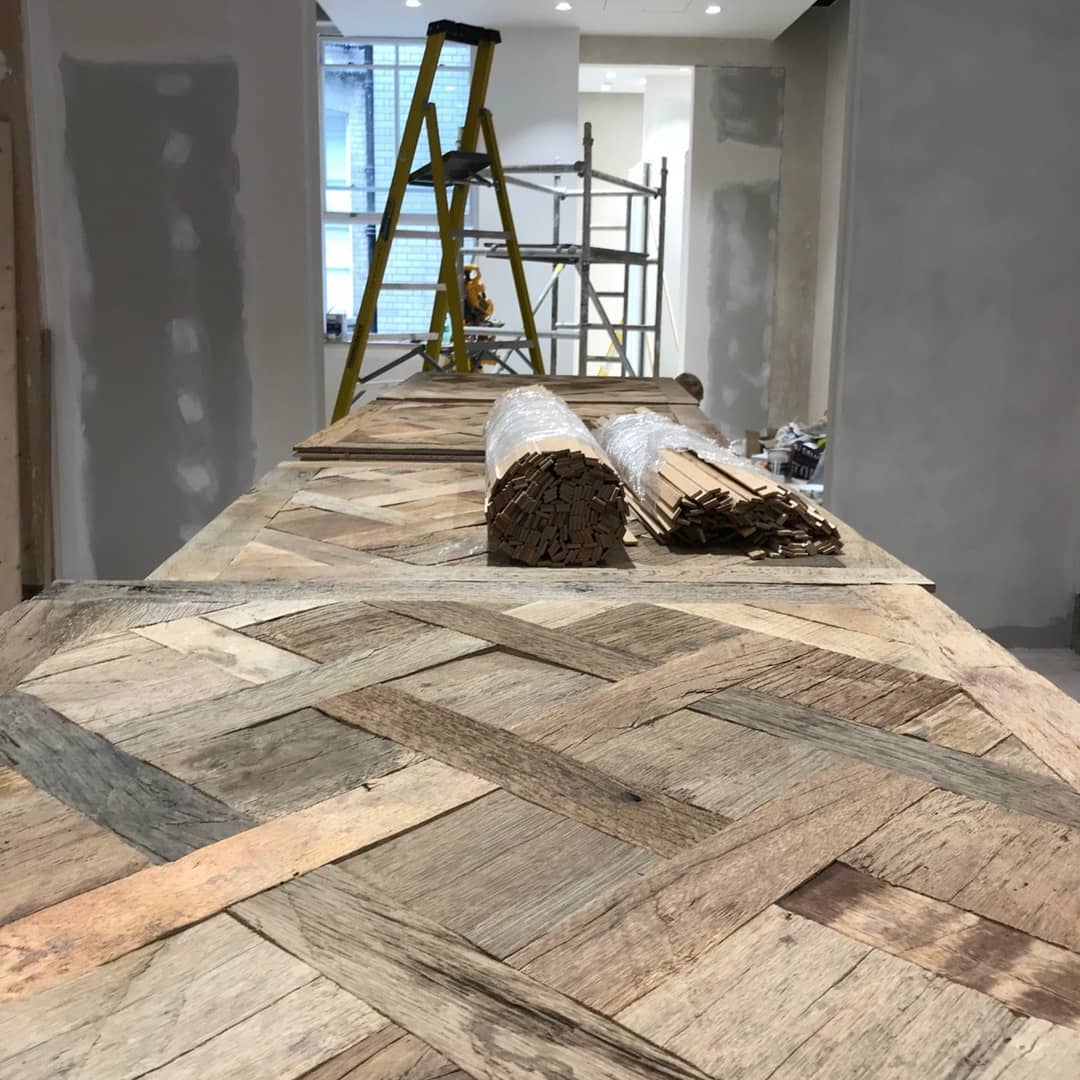 Flooring trends change throughout the years as property owners acquire new tastes and technology allows a larger variety of designs to stay in-line with modern remodelling needs.
Wood is a classic flooring choice that contributes substantially to the overall appearance of our indoor environment. And despite the continuous influx of wood-look flooring options, there will always be a huge market for solid hardwood and engineered flooring as it is one of the biggest returns on investment for property upgrades.
Getting your flooring right is crucial in keeping your home up-to-date. These 2020 contemporary flooring trends are the perfect guide to choosing a flooring that is durable, stylish and will stay trendy for years to come.
Floor colours
There is a reason why choosing the best floors is an essential part of the design — flooring simply sets the tone and feel of any interior space. That means, we need more options! And manufacturers are responding accordingly with more stunning colours than ever before to complement a wide range of interior aesthetics.
Grey wood floors are all the rage this season! Even better, grey refinishing gives traditional wood floors a fresh and clean modern look. If you're obsessed with a not too dark, not too light, but a nice medium grey undertone that provides a beautiful background for highlighting furniture and accessories, then this is a trend for you to jump on.
Blond wood flooring has come and gone for year — but in 2020 its making a trendy comeback thanks to a variety of new options for today's contemporary homeowner. It offers a certain versatility that works beautifully in almost any space and with any style, whether it be Scandinavian, industrial, English, modern or French interiors.
Bringing everything back to the basics is perhaps the theme of the new decade. With design centred more and more around intergrading the outdoors into the interiors, the trend of natural colours will stay for some time. The lighter shades of brown are so versatile — and exude the cosiness and soothing luxury most people look for. There is no better way to ground bright paint colours and striking decor elements than with muted brown wood flooring.
If you're looking to bring a relaxed, pared-back vibe into your home then the softer white-washed look is more your taste. The latest style is more matte and subtle in character, perfect for farmhouse style and coastal beach aesthetics. They work especially well on white oak for an upscale, natural finish.
Pronounced textures and more depth
While flawless surfaces remain classic, in 2020 raw and tangible texture will be more prevalent than ever before. The trend comes from wanting flooring with plenty of charm and character… hand-scraped, distressed, and reclaimed wood floors are a fantastic way to introduce a variety of tactile sensations underfoot and enhance the visual aspect of a space. The luxury aged look works best for spaces where a chic, rustic look is desired.
The wide plank wood floors visually enhance a space, making it appear and feel more spacious.  In modern homes, they offer a more contemporary presentation and older homes look more rustic and authentic. Long planks up to 7 inches wide are considered by many over the standard 2 1/4″ strips that were installed from the '30s through the '90s. This trend promises to become a classic staple that will likely last for years to come.
Layouts and patterns
In the new season, patterns-play continues to thrive. There's more use of eye-catching layouts to turn the floor into a statement piece, instantly elevating an interior space into a sleek, contemporary show-stopper.
Loved for centuries by European upper classes for its individualistic decorative flair, herringbone has become the hottest installation pattern in 2020. Simulating a woven or braided look by connecting two planks at a 90-degree angle, designers and homeowners alike are opting for long planks and trendy colours that lend a good balance between classic and modern.
If you adore the look of wicker furniture, handwoven baskets, or handmade quilts, the intricate geometry of herringbone will deliver that added touch of sophistication.
Natural-looking finishes (satin, matte and flatter sheens)
There is no doubt that matte and satin finishes are going to remain strong contenders in 2020 as more homeowner's trend towards flat sheens.  Both are muted enough to hide dirt and imperfections rather than highlight them as opposed to semi-gloss and glossy finishes. High-end wood floors bring stain and matte finishes to life while lending a contemporary and expensive feel to an interior setting.
Responsibly sourced natural material
Current design trends are focused on increasing sustainability and providing products that cause no harm to the planet. Wood flooring is a perfect example of a product that embodies that natural feeling.
What's more, consumers are seeking responsibly sourced flooring certified by the Forest Stewardship Council, which sets standards for forest management. Utilising finishes that are both durable and non-toxic contributes to a clean and healthy indoor environment.
Conclusion
The general atmosphere in 2020 is that consumers are looking for new and exciting flooring options. Whether it's unique patterns and textured planks or modern yet natural colours, the new year delivers on quality, variety, style and so much more. Wood flooring is so much more than a fleeting trend; it's a great investment that guarantees a timeless look that will last for many years to come.