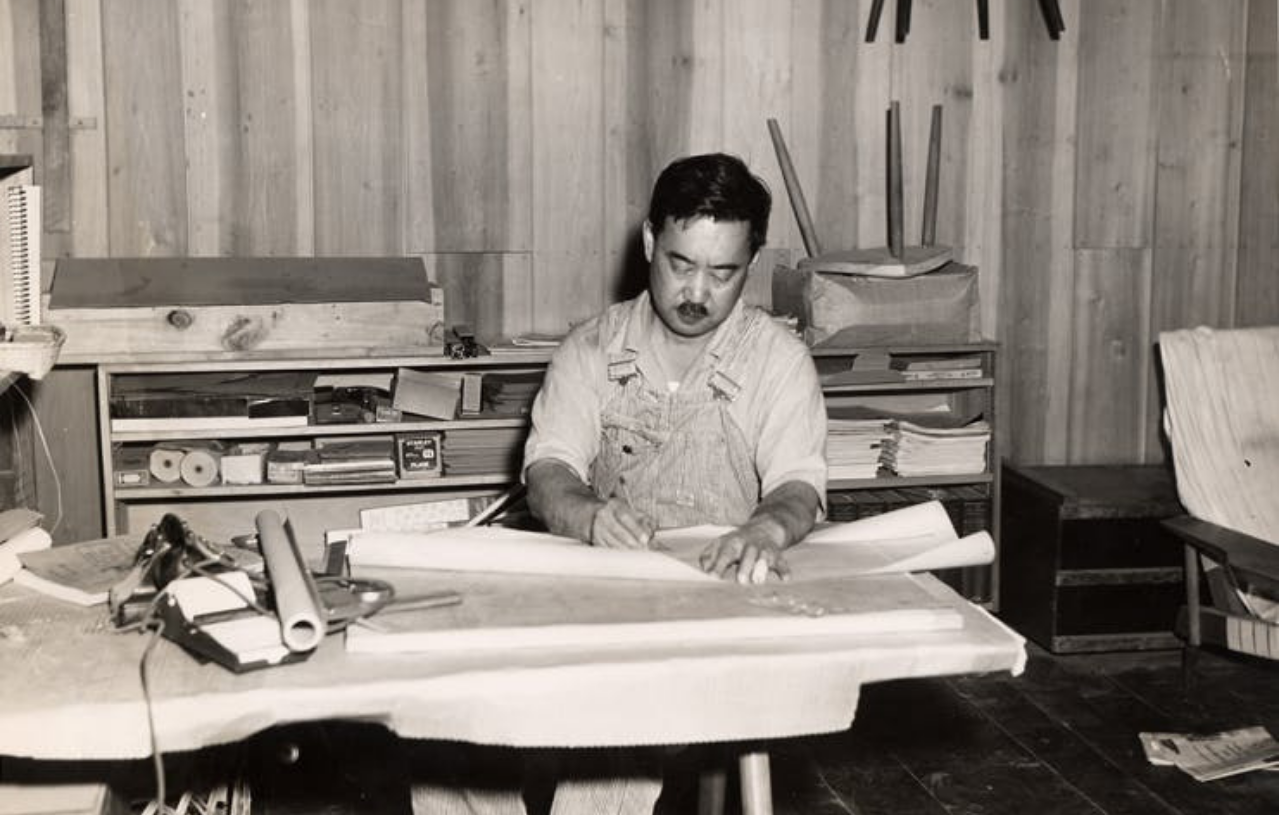 As one of the great designers and craftsmen of the twentieth century, George Nakashima is noted for his fundamental belief that every tree deserved a second chance at life.
Since inception, much of his craftmanship had always maintained a sacred relationship with trees, resulting in the production of some of the finest wood furniture of his time. His designs, which often incorporated slabs of wood from his own property and local areas, is highly recognizable and appreciated.
Born in 1905 in Spokane, Washington, to parents who recently immigrated from Japan — Nakashima's hiking and camping trips as a young Eagle Scout instilled in him a love of trees and nature — a love that, undoubtedly, became a part of his life.
In school at the University of Washington, he first studied forestry and after two years switched to architecture. He went on to earn a masters degree in architecture from MIT.
Upon graduating, he moved to Tokyo in 1934 and started work at an architecture firm of Antonin Raymond, who combined Japanese building techniques with innovative Western practices. There, he was part of a team that designed interiors for the firm's various projects.
He was later sent to India in 1939 to oversee the country's first reinforced concrete structures. During his stay, he became a follower of an ashram's guru Sri Aurobindo's spiritual teachings.
Upon his return to the United States, he was disappointed by the architectural world and decided to pursue a new career as a furniture designer — a new chapter in his life that will have a lasting impact.
With his first workshop established in 1943, in New Hope, Nakashima's discipleship in the ashram ignited his innate skills and aesthetic to create a style of functional beauty.
His earliest works showcased the wood's purity and natural character, particularly its gnarled imperfections. His furniture making process rarely used the free-edge technique. Rather, he began producing custom-made pieces that were free of ornamentation, and focused on simple lines in order to show off the natural beauty and contour of each wood plank.
Within two years of setting up his studio, he entered into a working relationship with manufacturer Knoll, which brought his creations to a wider audience and into contact with other like-minded designers. He produced two original furniture pieces that served as early examples for Knoll, which began production in 1949 — the Splay-leg Table and Straight Chair.
Throughout the years working with large-scale retailers, his name became more established and respected as a maker of fine wood furniture.
George Nakashima's elegant and thought-provoking furniture collection continues to enthral collectors. His work graces the homes of affluent individuals seeking something distinctive, including Steven Spielberg, Brad Pitt, Julianne Moore and many others. His most popular pieces: A Nakashima Conoid Bench, Conoid Chair, Lounge Chair and Minguren II Coffee Table are preserved for history in the Smithsonian.
Nakashima was mindful of choosing his clients — he found friendship with each one them to be vital and instrumental to the development of each final piece. The more he resonated with a client, the more likely it was that they were given top priority of the finest lumber, such as exotic varieties of Rosewood or English Oak.
While most woodworkers preferred furniture making with smooth and straight-edged lumber from the inner parts of a tree, he took pleasure in finding an ideal use for every part of the tree. Largely influenced by the Japanese belief of wabi-sabi, Nakashima revered in seeking beauty in imperfection — and had an uncanny ability and an almost psychic connection to the wood.
In his memoir The Soul of a Tree: A Master Woodworker's Reflections, Nakashima wrote: "There is drama in the opening of a log to uncover for the first time the beauty in the bole, or trunk, of a tree hidden for centuries, waiting to be given this second life."
In making furniture from slabs of wood, instead of hiding deep cracks and large gabs, he utilised the butterfly joint to hold pieces together. Although the butterfly joint was used by others before him, it became part of his craftmanship, and many referred to it as the Nakashima's joint.
The final touches included using oil finish instead of veneers or lacquers so as to highlight the natural grain of the wood.
His craftsmanship captivates people "because it is different. My father integrated life and work by not tying into the big-corporation mindset of mass production and making money. To him, it was more important to make beautiful furniture; money would come later. He combined utilitarianism with beauty," his daughter Mira Nakashima recounted.
"Dad always felt he was giving trees new life, and life continues. Not everybody understands this; it's not for everyone, but if you are sensitive to it, you will sense life in each item we make. People realize this when they have sold their Nakashimas. It's like selling a part of themselves."
After his passing in 1990, Mira took over as the Creative Director of Nakashima Woodworkers — producing her father's classic pieces that pay tribute to his legacy while simultaneously developing her own novel ones. She has also written a book about her father called "Nature, Form and Spirit: The Life and Legacy of George Nakashima."
Of her father's influence, she said, "Today, there is a strong legacy that lives all over the world in using the natural form of wood. The architecture he created on the property here (in Bucks County, PA) is now a Historic National Landmark. Another landmark in his life was to leave the camp in the desert and start a legacy here in New Hope."
Conclusion
George Nakashima initially wanted to be an architect but instead became one of the world's renowned woodworkers… shaping each piece of wood and fashioning it into a useful object for human consumption. In his eyes, the tree was always where everything began and it was up to the tree to dictate the form to follow.