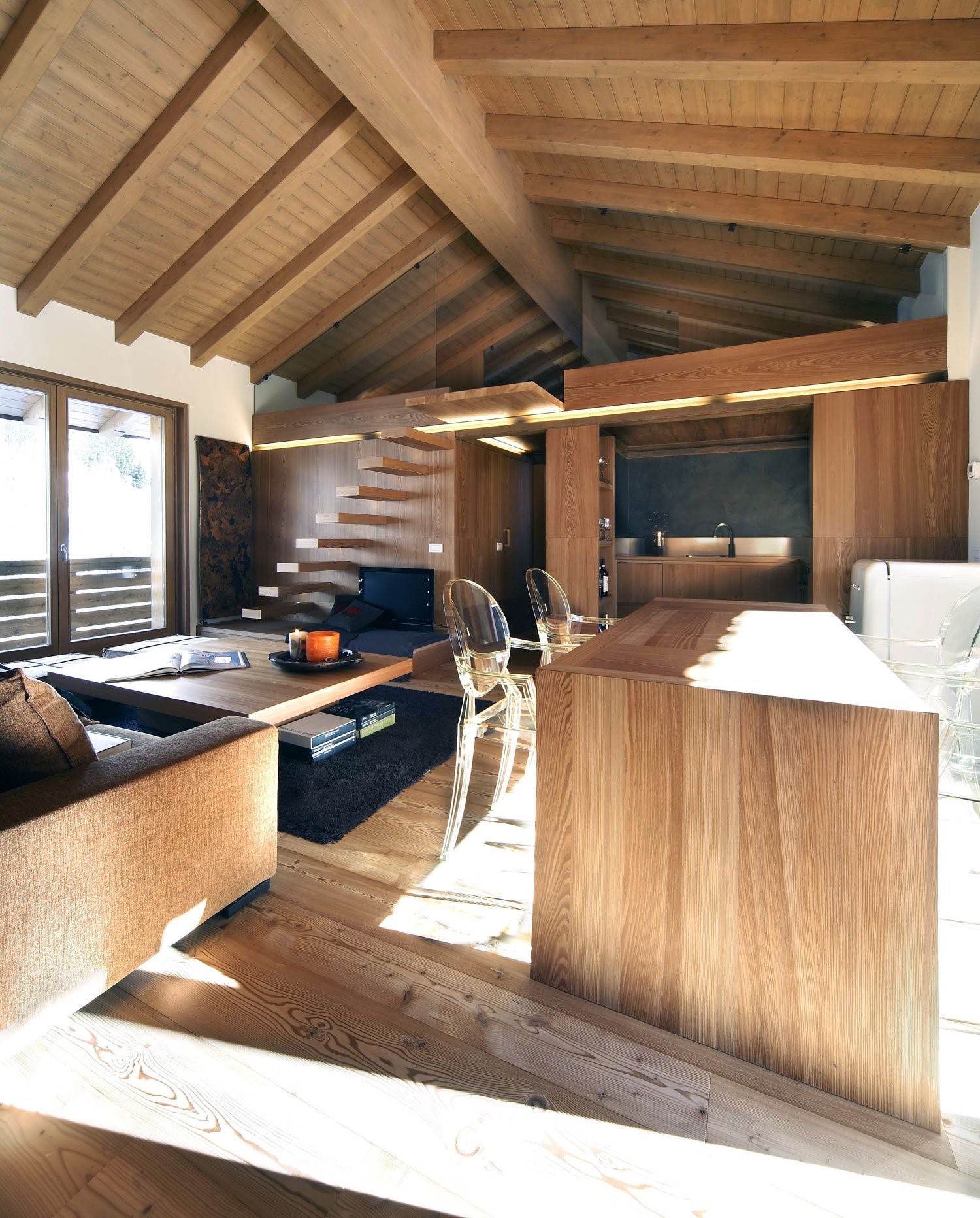 Wood is a fantastic primary decorative source. For too long now it's been used as an accent feature but here in the following article we would like to show you how this fantastic natural resource can prove to be the primary focus in a room – and how!
[plugmatter_promo box = '1']
Open floor and warm wooden walls
The following photograph is of a modern sitting room with a highly- polished wood surface. The wood adds light and warmth well as texture to the space while the lights enhance the natural brightness and warmth of the wood:
Monochromatic colour scheme
A colour-scheme of light neutrals – or a monochromatic background (as seen in the following photograph) is a great way to show off the unique texture of a wood. It works by giving a 'soft, organic' feel to this sitting room which otherwise displays contemporary furniture with a smart aesthetic:
Rustic Kitchen
Wood used in a rustic kitchen doesn't necessarily have to be of the old, distressed variety (although that works too, obviously!).
Lumber, regardless of its origin, always adds warmth to a room – and together with bricks, vintage appliances and an old worlde fireplace, reclaimed timber can bring a room together like never before. Take a look at this rustic, rather weathered-looking, kitchen as a fab example; it adds warmth and history simultaneously. In addition, every inch in this kitchen has been utilised to best effect:
Rustic Bedroom
This ski chalet in the very popular French Alps boasts seven en-suite bedrooms and an indoor pool – in addition to a Hamm am steam room. Who cares about the wood? No, but seriously, this chalet with its beautiful natural wood ceiling, walls and doors surely must serve to make one feel cocooned in what appears to be a forest of natural wood:
Colonial Style
No-one's a pioneer these days (maybe an entrepreneur) so the idea of using primitive hutting seems a bit bizarre. Or does it? This beautiful elegant room with its crown mouldings and wooden panels – not to mention the authentic window shutters and mahogany wood furniture – could easily sway one's mind….
External wood
Whether it is internal or external, wood can always claim a bit of fame as regards our designer aesthetic. And this gorgeous Pittsburg home of a local architect is a case in point. He replaced concrete with wood and softened the exterior by not just introducing wood, but also a curved element:
Levelling Change
The wooden levels in the following photograph help to distinguish spaces ie there's no wall between the dining area and the adjacent space; just few steps. This sunken living room creates a relaxed and cosy atmosphere, regardless of the lack of any womb-like walls:
Round room
The following room doesn't have wood as a primary feature – but rather the main distinguishing mode. It gives it a rustic element which nicely sets off the old-fashioned fireplace and Tudor-style textiles. And that rounded ceiling is simply incredible – thanks to the wooden beams:
Country Style
When it comes to wooden interiors, no-where is it more defined than country-style and this kitchen cum dining room is a case in point. A cross between English country and Tuscan this look is unpretentious and homely. There's definitely a bit of a farming traditions look here, we're sure you'd agree:
So which particular wood filled room appealed to you most? Whether it's traditional oak, reclaimed pine or oak or simple distressed wood in general, there is no denying that wood lends a certain warmth and aesthetic appeal to a room – regardless of whether it's a sitting room, kitchen or dining room. Personally we'd opt for any of the above rooms in our home.