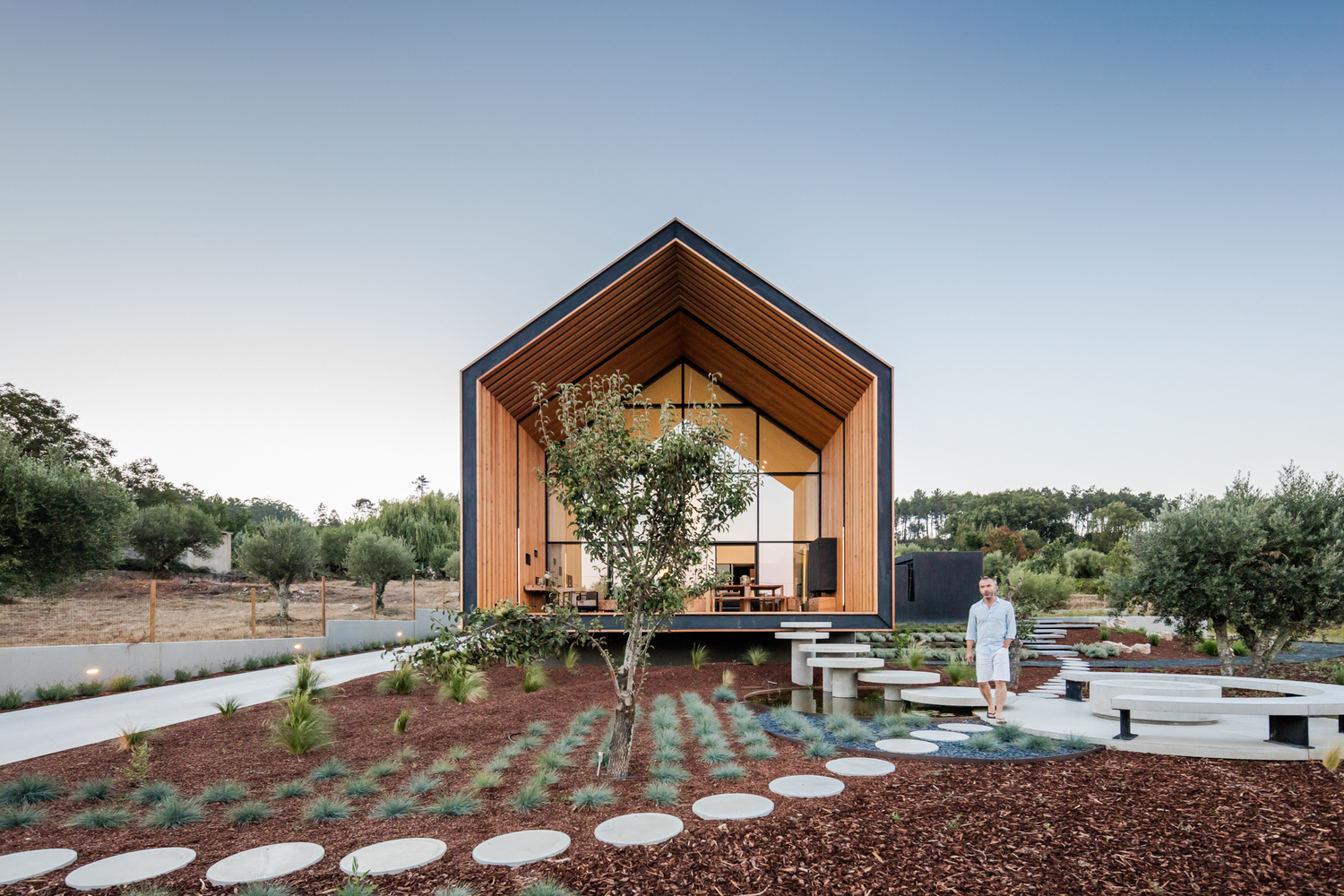 Architect Filipe Saraiva designed his own home located in Ourém, Portugal.
|The structure is based on a quintessential form, yet hiding fine details and materials behind its deceivingly simple appearance.
"The house is like a shelter that protects us from the world around us. It is our refuge and our own world. This archetype is generally defined by a polygon of regular geometrical shape, generally well proportioned and of balanced dimensions, with which we all identify ". Filipe Saraiva, architect
The house is built on a plot of land surrounded by farms overlooking the Castle of Ourém.
The front pergola stretches out from the interior becoming a natural extension of the house with the same polygonal shape.
About halfway out, the wooden slats are distanced apart from each other letting light filter into the covered space.
The exterior is clad in prefabricated black concrete panels with regular dimension that defines the stereotomy of the project and require little maintenance, while helping the structure blend in with its surroundings.
The entrance into the home is on the long, and rather closed side of the house, that's somewhat hidden underneath a cover of weathered steel, underscoring the huge importance that materials have for Saraiva in his approach to architecture.
The front wooden door is tucked into a slight alcove in view of the music room.
The music room, which is set up with a record player and a relaxing lounge chair look out through a black-framed glass wall that provides a view into Saraivas' garage.
At the other end of the music room appear the main social areas of the house.
A large round wood dining table is surrounded by black chairs that blend in with the black window frames.
The large windows offer an abundance of natural light flowing throughout the social areas.
On cool nights, the family can enjoy the warmth of the fireplace in one of the sitting areas.
Connecting the social areas of the home with the bedrooms upstairs is a simple wood staircase between crisp white walls.
At the top of the stairs is a loft area that's been set up as a library/home office.
A shelving unit runs along the wall and acts as a bookshelf and storage unit.
A large white table provides space for four people to work at and underneath the window is a couch for relaxed reading.
Images:  Joao Morgado – architecture photography