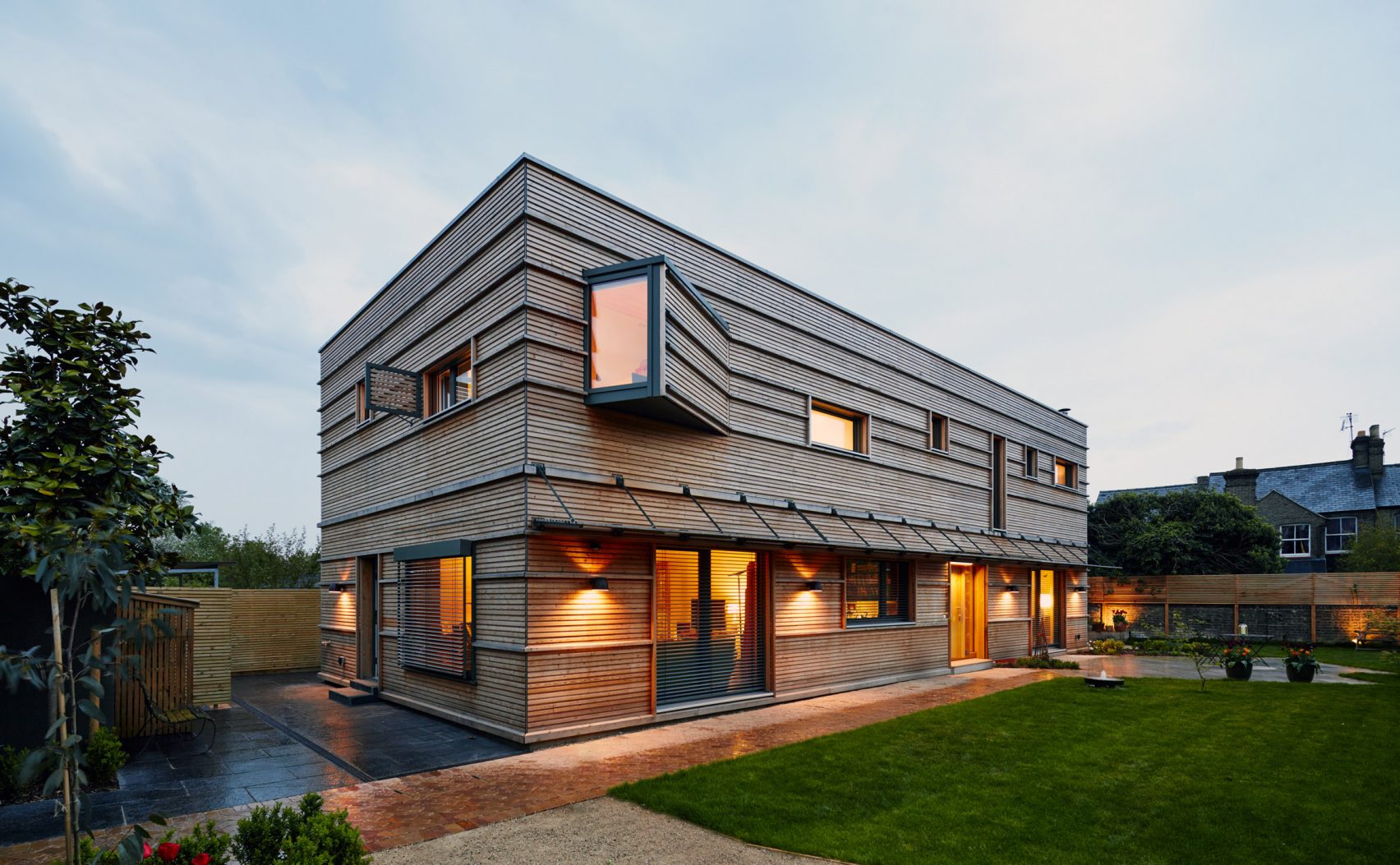 House R, by architecture design firm Nilsson Pflugfelder, is a two-storey house in Cambridge, England.
It sits in the heart of the English city, encircled by homes with lush Victorian gardens and terraces.
The exterior of the house is conceived as a compact box with striated timber facades, providing its inhabitants with dramatic vistas without compromising their sense of seclusion.
The designer achieved this by determining the height of the windows that puncture the structure by the surrounding building; their proximities to the home and the way the house would be viewed from their windows.
"Windows are carefully placed without creating overlooking issues, to provide long uninterrupted vistas, with the purpose of lending an unexpected, carefully choreographed sense of grandness to the otherwise spatially efficiently planned house," explained studio founders Magnus Nilsson and Ralf Pflugfelder.
House R is located towards the centre of the site; 8.20 metres away from the southern boundary and 4.00 metres from the northern boundary.
This maximises the distance away from the site boundaries whilst increasing the available amenity space on the site.
The Space is optimised on the south side, to offer more outdoor and garden space, and capture the best of the sunlight.
The house's design components lend quite a traditional setting; that is, on the ground floor the doors open to social spaces such as dining room and living room facing the south side — whilst the north side accommodates service areas including the kitchen, pantry and utility room.
The bathrooms, storage space, a study, and bedrooms can be found on upper floor; and can be accessed by a staircase ascending through a double-height void in the center of the home.
A curved inner wall that's illuminated from above by a skylight sits in the same area.
To overcome overlooking issues, some of the windows at first floor that are not placed above eye-level or equipped with translucent glass, have a fixed fin that project 750mm perpendicular to the facade.
To allow adequate natural light, the south-facing window in the study is designed as an oriel window and extends out without compromising any privacy.
To preserve the building's sustainable qualifications and further enhance cost savings; a standard timber cladding was used to cover the exterior walls — consisting of untreated 28mm solid timber (without disrupting the prefabricated panels underneath). "Through strong horizontal striations and leaving the timber untreated, it is intended to lend the light timber cladding a materiality and gravity akin to a heavy brick facade, to make the timber appear brick-like," the studio said.
Images:  Joakim Boren (https://www.joakimboren.com/home)