Allow tonal variation, filled knots and scars.
Easy installation with Tongue & Groove
Large Hand Sample
Compare construction, colour & texture. To feel the wood itself in your hand, really helps you to fully appreciate the quality in our creations. Our Hand Samples have a lead time of 5 working days. Gain a better understanding of how the floor will look once fitted. You will see more surface variation such as colour, texture and grade when compared to a hand sample.
Custom-Made
We make our bespoke samples to order: sizes may vary, 300mm x 500mm. In addition, kindly allow 4-8 working days for us to prepare your genuine artisanal mini-panel.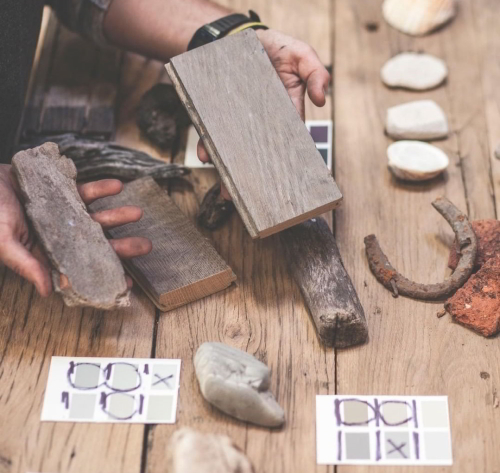 Do you have a Minimum Order Quantity?
30m2 for all our collections/products
Lead time for Orders
It depends on the product and stock. Please get in touch with us for specific lead times.
Lead time for Samples
Our Samples have a lead time of 5-10 working days for UK destinations. Please get in touch with us for International lead times
Do you export internationally?
We are an international company, we have sales representatives in the USA, UK and Scandinavia. For all other global markets, we are able to provide quotes F.O.B.
Should I be concerned about the colour variation within a product?
If you are concerned about colour variation you can order a sample panel for a refundable deposit. Please remember that we are not creating exact copies of floor panels or hand samples, we are creating individual floors with their own unique personality and charm.
Sizes & Finishes
Thickness
5mm thick / 4mm wear layer. Allow variation, please enquire
Width
Mixed. Please enquire
Length
560 mm. Allow variation, please enquire
Technical Specification
Species
European Oak (Quercus alba)
Grade
'Hand patch repaired', tonal variation, filled knots & cracks
Application
Commercial, Residential
Installation Technique
Glue, Nails
Profile
Tongue and Groove