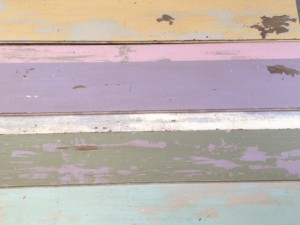 Reclaimed Worn Wood / Distressed Painted Wall Cladding
Painted wall cladding has really taken off in 2013, we see feature walls made from wood cladding and painted cladding in restaurants, bars, retail and private homes. But do you know what the real design dilemma is with reclaimed painted wall cladding?
The dilemma is that up until now you could not control the colours, which is a nightmare from a designers perspective. Normally, a client would have to take what comes, which would be a mish-mash of what is available. This presents no problem in some cases but if you require more colour control – then you will love these.
Imagine a new shop where there brand colours are red, brown and green for example. We are now able to create a unique layering effect for these colours and so create instant nostalgia and history for what would normally be a new shop, store or company interior colour set. Because of our new painted cladding designs, any colour can be layered and weathered to any degree which gives full design control to the designer or client.
We have one well know secret client/brand that has experimented successfully with this idea and they are in truly impressed by the results. What can we do for you?