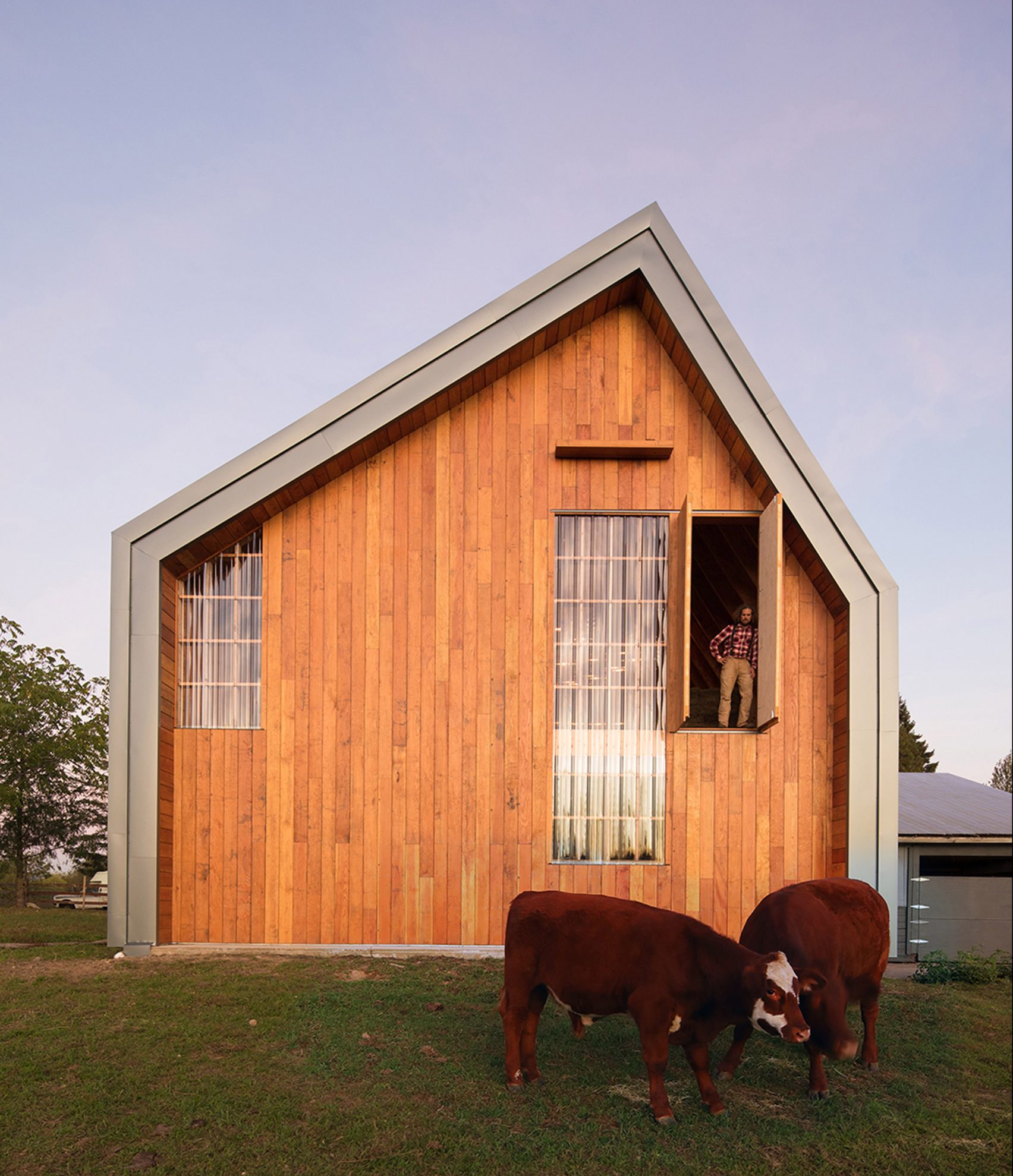 Canadian architect Asher deGroot of MOTIV Architects designed a modern barn in rural Langley, BC, Canada, known affectionately as Swallowfield for his parents Dennis and Jenny deGroot, who own the farm.
The simplicity of the design is intentionally reminiscent of traditional North American barns, clad in vertical Douglas fir sliding, reclaimed from prior use as board-form concrete formwork; which allowed the project to be constructed on a modest budget.
The reclaimed timber has visible marks and stains of the boards' previous life, maintaining the patina and memory as the material ages and weathers.
To construct Swallowfield Barn, the architect acted as the builder for the project; and along with his father, they coordinated specific build days with a crew of up to 40 people.
"The goal of the project was to build a new barn and gathering space in the manner of traditional barn-raisings, using simple techniques and readily available materials," said the architect.
The project had two main objectives — to design for simple inhabitants; resident cattle, sheep, swine, cats, as well as workshops and storage.
The second objective was to conceive a spacious hayloft that can function as a vibrant community gathering space, suitable for hosting concerts, weddings, art shows, poetry readings, fundraisers and long-table dinners.
The frames of the roof structure were constructed completely on site and raised into place in less than four hours.
The barns' eye-catching and distinct off-kilter pitched roof creates a warm and inviting entrance — designed in collaboration with timber engineer Eric Karsh.
Inside, the barn's "cathedral-like design" highlights the potential for engineered wood flooring to be celebrated in an exposed application and elevates the material to new heights, expressing the beauty of its strength and simplicity.
The ground floor is spacious, with multiple entryways and alleys designed for moving farming equipment and animals.
Large sliding doors create a generous indoor-outdoor work area- protected by the roof overhang above.
The repetitive roof structure upstairs draws the eye upward to the long linear skylight at the ridge.
The barn requires no daytime lighting and is naturally heated during the shoulder seasons.
Images: Ema Peter (http://www.emapeter.com/)