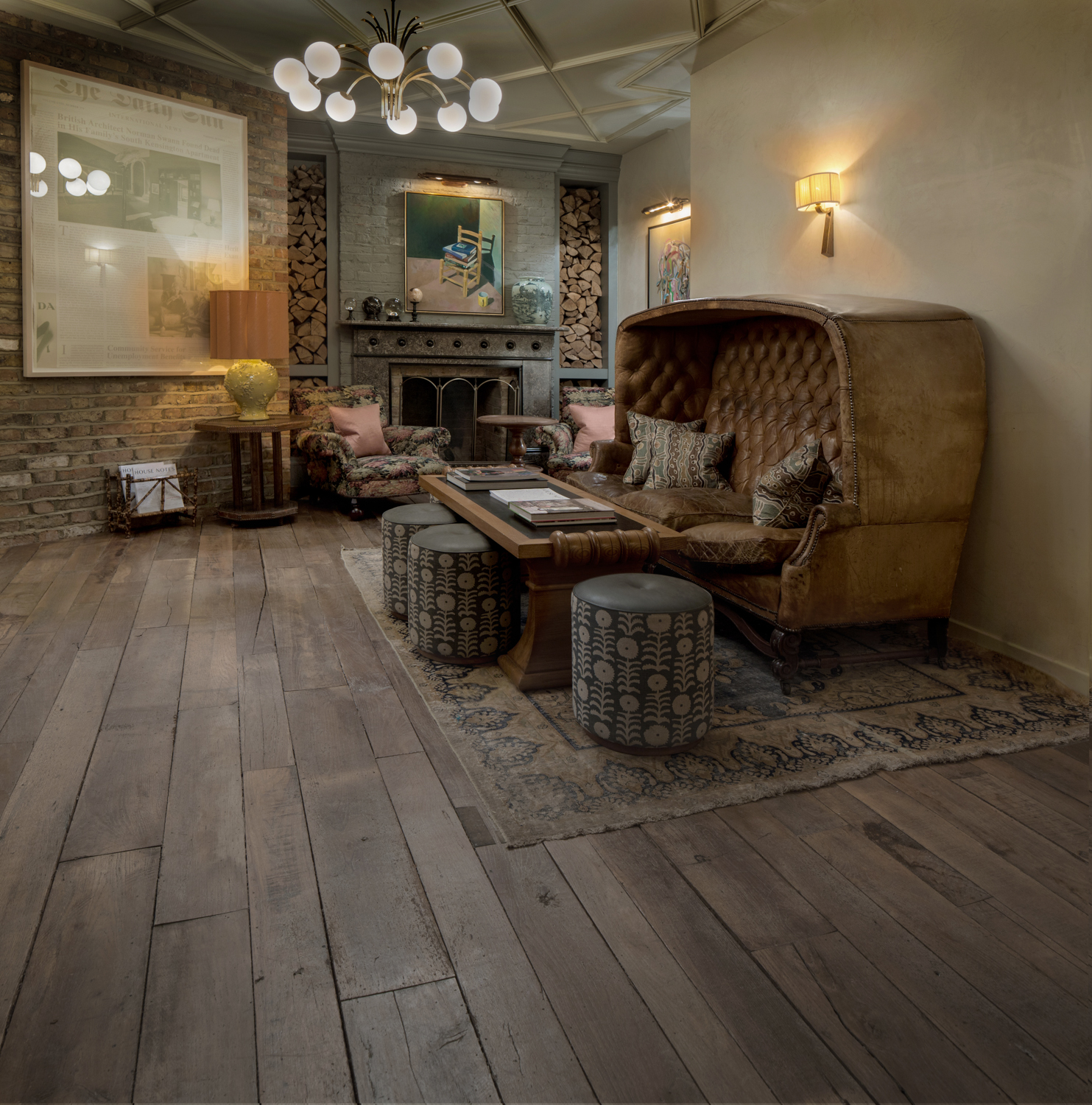 Wood flooring is a big investment, and it's considered by many to be the ultimate floor of choice…
It lends a timeless, natural beauty and warmth and simply never goes out of style.
Its bold rich details accentuate the interior of your home and when installed throughout the house, it creates a seamless look.
Below, we look at the different type of wood flooring and what sort of flooring you can use in which rooms.
The Hall
Because hallways take such a hammering when it comes to traffic, it is worth thinking about using a harder and durable species of wood.
When you choose your wood flooring, it makes sense to go for something that is hardwearing, that is easy to clean and maintain and will stand the test of time.
European Mountain Oak is a great choice. This slower grown tree has a tighter grain and produces a more stable wood structure.
Perfect for high traffic zones and our hand-made finishes due to its significant amount of tannin.
Mountain European Oak is specific to The New & Reclaimed Flooring Company and we use this prized oak for both our solid and our engineered range of flooring.
Living Room
The living room should be both beautiful and functional; it's where you relax and spend quality time with family and host your guests.
Both engineered and solid wood will bring the best out of your living room space and lend natural look while adding character and warmth.
However, if the room benefits from under floor heating, solid wood flooring will damage as a result of temperature changes
The Bedroom
Both solid wood and engineered wood flooring are ideal and look beautiful in any bedroom.
There are numerous options when it comes to your wood types, depending on personal preference and the look you want to achieve.
A brown-grey appearance can lend a rich warmth or austere elegance to your master bedroom suite.
For a more unified look, you may want to lay planks with the same dimensions, to balance the visual weight and firmness of wood, use soft fabrics and airy textiles in a form of throw cushions, window treatments or cotton sheets.
The Kitchen
Wood floors have seen a lot of changes over the years, and for this reason, it has grown to be a popular choice in kitchen design.
This is a spot that takes more beating than any other room in the home; from spills, to muddy prints and even temperature and moisture changes.
The use of solid wood flooring will only lead to damage from the presence of humid and wet conditions
It is recommended that you choose engineered wood flooring for the kitchen; which is more stable and doesn't expand and contract to nearly the same extent as solid wood.
The finish you opt for should be durable enough to withstand heavy foot traffic.
For those with wood floors in other common areas, creating a feeling of continuity and flow into the kitchen makes the overall space look and feel large and more cohesive.
The Bathroom
The bathroom is really just the same as the kitchen — there should be very little concern about putting wood floors in a full bath.
Today's bathrooms are well ventilated to draw out moisture; however, solid wood floors are inappropriate for bathroom interior due to moisture level.
It's best to go with engineered wood flooring which is dimensionally stable and does not fluctuate too much in response to humidity.
They're also more comfortable underfoot than the traditional stone or ceramic tile you'd normally find in a bathroom.
Selecting the colour and finish will depend on one's taste; engineered reclaimed wood flooring is especially good for a bathroom floor.
If the bathroom has a lower ceiling, light wood floors teamed with light walls are a suitable choice.
Dark tones are popular and work well in spacious bathrooms and add character to chic and modern décor scheme.