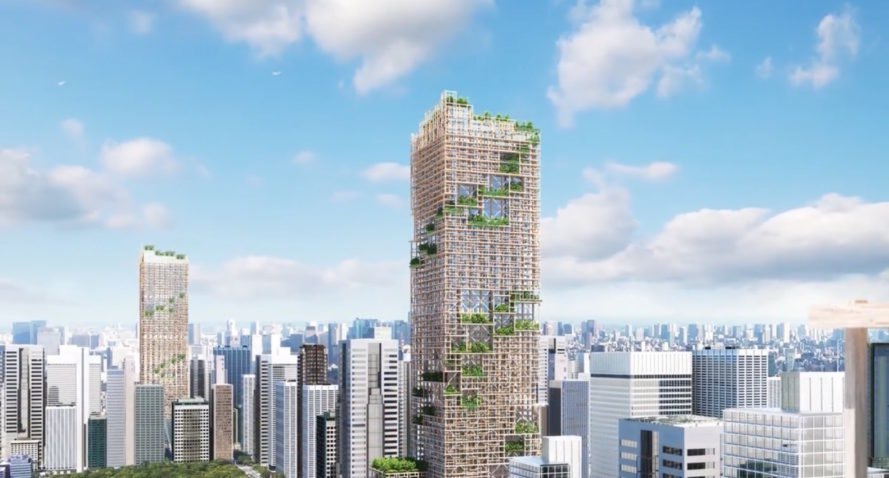 Japanese developer Sumitomo Forestry Co. and architects Nikken Sekkei have unveiled plans for the world's tallest wooden skyscraper — a 1,148-foot (350m) tower; comprising of stores, offices, hotels and private homes.
Positioned in central Tokyo, the 70-storey building will be a hybrid of mostly wood and steel capable of handling Tokyo's high seismic activity (with wood accounting for 90 percent of the construction material).
Set out to be both the tallest building in Japan and the tallest wooden structure in the world; construction is aimed for a 2041 completion date to mark Sumitomo's 350th anniversary.
The building is expected to cost about £4.2 billion (600 billion Japanese yen) which is twice the amount of a mainstream skyscraper of the same size.
Sumitomo Forestry, however, believes that due to technological developments, it expects the costs to fall before the completion of the building in 2041.
At every level, the building will heavily feature greenery on balconies, offering "a view of biodiversity in an urban setting".
The architects' sketches also reveal broad balconies and water features that continue around all four sides of the building, giving a space "in which people can enjoy fresh outside air, rich natural elements and sunshine filtering through foliage."
With earthquakes being a concern in Japan, the building will incorporate a structural system composed of braced tubes made from columns, beams and braces that are able to withstand strong winds and the earthquakes.
Images: Sumitomo Forestry Co. (http://sfc.jp/english/)